Iran 'successfully launches ballistic missile'
Comments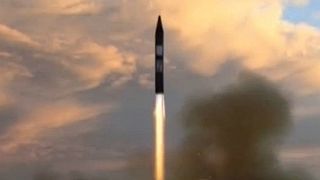 Iran says it has successfully tested a new, mid-range ballistic missile. The report comes amid a tit-for-tat exchange between President Hassan Rouhani and his US counterpart over a 2015 nuclear deal.
The new Khoramshahr missile, which Iran claims can carry several warheads, was on display at a military parade on Friday. The time and location of the launch have not been made public.
But Rouhani denies Tehran is breaching the accord.
"In addition to upgrading the missile systems, we will also strengthen our naval, ground and air forces," Rouhani announced, adding: "If we have signed an agreement with someone, as long as the other side still abides by it, we will also abide by and fulfill this agreement."
Tehran says its missiles are not designed to carry nuclear weapons. However, US President Donald Trump has regularly criticised the 2015 pact. He claims Iran is intent on 'death and destruction' and has accused the country of exporting violence to the Middle East.