Leaders respond to Kurdistan independence referendum
Comments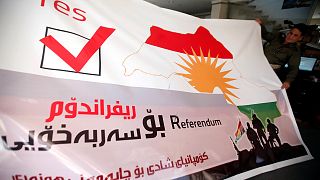 Leaders have responded to the notion of a Kurdish Independence referendum, with Turkey's president Recep Tayyip Erdogan leading the charge against the vote, saying it will only lead to further instability in an already vulnerable region.
Speaking at the United Nations General Assembly in New York, Erdogan said new conflicts must be avoided at all costs.
He said: "We hereby call on the Iraqi Kurdish Regional Government to abort the initiative they have launched in that direction.
"Ignoring the clear and determined stance of Turkey on this matter may lead to a process that shall deprive the Iraqi Kurdish Regional Government even the opportunities they currently enjoy."
"New crises in the region, such as bids for independence, could spark new conflicts and must therefore be avoided at all costs … We urge Iraq's Kurdish Regional Government to abort the steps they have taken in that direction," he continued.
With many Kurds in favour of independence, the vote has stoked tensions in the Iraqi city of Kirkuk, long claimed by both Kurds and Arabs since oil was discovered there in the 1930s.
Kirkuk Governer Najmaddin Kareem said: "As opposed to Iraq, Kurdistan has actually proven that it has always respected the rights of all communities. Go to the Kurdistan region, they have schools there for the Turkmens, for the Christians, for the Arabs."
Those in favour of Kurdish independence point to the relative stability in the region, in contrast to Baghdad where suicide bombings are frequent.
However, with the vote due to be held on September the 25th and many are worried that tensions may lead to clashes.