Fire and fury over film about Russian tsar's romance
Comments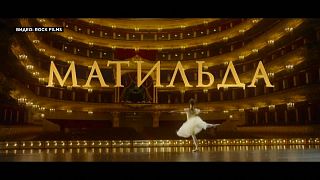 An early screening of a controversial film about Russia's last tsar was cancelled in Moscow on Monday after two cars were set ablaze outside the office of a lawyer for Alexei Uchitel, the film's director.
"Matilda", to be released internationally in late October, tells the tale of the late-19th-century romance between Nicholas II, before he became tsar, and half-Polish dancer Matilda Kshesinskaya, who described the relationship in her memoirs.
Monday's arson attack comes as Russian religious conservatives wage a campaign against the film, which they view as "blasphemous".
Uchitel's attorney posted photos of the charred cars and notes left at the scene saying "Burn for Matilda" on his Facebook page.
The biopic contains some erotic scenes, and State Duma Deputy Natalia Poklonskaya, has said it offends religious believers.
In late August, someone tried to set fire to a studio complex in St Petersburg that houses Uchitel's studio.
Last week, a man drove a car packed with gas canisters into the entrance of a cinema in Yekaterinburg, the city where Bolshevik revolutionaries executed the Tsar and his family.
Bishop Tikhon Shevkunov, head of the Orthodox Church's Patriarchal Council on Culture, told Reuters the film contained "lies about our history, lies about the circumstances of the life of the royal family".
"From an artistic point of view, it is simply unbelievably crass."
But he said the church was not seeking to ban the film and all protests against it should be within the law.
Three Muslim-dominated regions of southern Russia – Chechnya, Dagestan and Ingushetia – have said they will not allow cinemas to show "Matilda".
The tsar and his family were executed soon after the 1917 Bolshevik Revolution, an event whose hundredth anniversary is being commemorated this year.
Nicholas II was canonized by the Russian Orthodox Church in 2000.