Do these graphs show climate change is happening in Europe?
Comments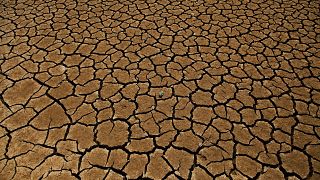 with Michela Monte
Europe is getting drier in the south as northern parts become wetter – a trend consistent with climate change.
Newly-released data shows countries in southern Europe, such as Spain, Italy and France, have seen several years of consistently drier-than-normal conditions.
That is in stark contrast to the likes of Poland and Germany, according to statistics shared with Euronews.
The study, produced in part by the Vienna University of Technology, looked at anomolies in soil moisture over the last two decades, plotting it against a 25-year average.
Wouter Dorigo, a professor of climate and environmental remote sensing at the university, said the data matched global warming predictions.
---
How the southern parts are getting drier



Source: Luca Brocca/Research Institute for Geo-Hydrological Protection
---
But, he added, it was difficult to be 100 percent certain it was down to climate change, because the study only covered the last two decades or so.
"What you see means overall, over the last few decades, in the 1990s it was wetter than normal but lately we're getting drier and drier years. It's not random anymore, the dry years are accumulating.
"They wouldn't be wrong to look at the maps [and say it's climate change] but you need a real study to say it's climate change.
"You always have some natural variability in the data, so you do have periods when it's wetter and when it's drier, which are often connected to big climate systems, like El Niño, which generally drive weather systems.
"But it could be an indication of climate change, of course. But you have to be aware of the time period we're looking at is 25 years. It's a little bit too uncertain to say it's climate change.
---
How the northern areas are getting wetter


Source: Luca Brocca/Research Institute for Geo-Hydrological Protection
---
"It does fit very well with the expected patterns of climate change. Europe is expected to get drier, particularly southern Europe. Northern Europe (Scandinavia) is expected to become wetter. For central Europe it's less clear in which direction it'll move.
"It also fits in [that northern European countries like Germany] are getting wetter.
"There's a change somewhere in France or Germany – north of there it's expected to get wetter, and south, drier.
"It's a short time series, we're just looking at 25 years of data, so we should be a little bit cautious, because even in a wetter period you can have a very dry year."
---
How normal have conditions been in Europe this year?
This animated gif shows the areas of Europe that have been drier (red) or wetter (blue) than normal so far this year.