Climate change sees thousands of reindeer starve to death
Comments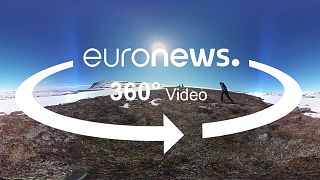 Reindeer around the world are starving to death because of the unstable climate.
More than 80,000 of the animals, 22% of the total population, starved to death in Siberia between 2006 and 2016.
Temperature fluctuations result in a layer of ice on top of the lichen, which is what reindeer eat.
Reindeer keepers are forced to feed the beasts pellets in order to keep them alive.
Johan Andersson, a reindeer keeper from Ammarnäs, says the problem gives him sleepless nights: "When the reindeer are happy, I'm happy.
"I don't sleep during nights, where I see that that they can't get to their food. You suffer with them. And you do everything you can for them to get their food."
Watch in Virtual Reality: how climate change is affecting Europe now
Inside this VR experience, you can watch seven different reports on climate change in Europe, either with a VR headset or through your normal browser on computer, tablet or phone.
You can choose your destinations by gazing at the icons on the map or by hovering the round cursor on them.
On a desktop browser, you can enter full screen mode by clicking on the glasses.
Please use Wi-Fi if you are on mobile, as well as headphones for the best experience. If you have trouble starting the experience below, please click on this link .