Spain's longest river at risk of drying up
Comments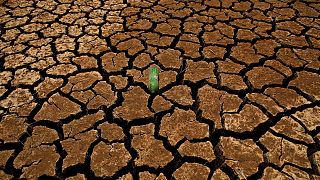 The longest river in the Iberian peninsula is on the verge of drying up completely thanks to a combination of Spain's current drought and inadequate water transfer planning dating back over a hundred years.
The demands placed on the Tagus River, stretching from Aragon in northern Spain to Lisbon in Portugal have created a state of "social and political conflict", according to water governance specialist Nuria Hernández-Mora, turning the Tagus into "one of the rivers in the worst ecological state in the peninsula."
The problem begins in the north, where water is diverted from the Tagus to feed the Segura River, which irrigates arid farmland. But the 1902 plan that initially conceived the transfer miscalculated the amount of water available, and made no allowance for Spain's regular droughts.
A recent government law demanding that water be transferred as soon as there is a surplus has exacerbated the problem, making it impossible to store up water for use in the event of droughts.
With more than 50% of the river's water siphoned to the Segura to satisfy growing agricultural demand, the Tagus takes further hits downstream. The river supplies Madrid's six million inhabitants, and is also used to cool nuclear reactors.
Now Spain is in the midst of one of its worst droughts in decades, and the combined impact has been devastating.
If Spain is living beyond its means in terms of water resource, it's not the only country in the world. India's Cauvery River has frequently run dry due to drought and poor irrigation management, threatening the livelihoods of thousands of farmers. A recent study found the number of farmer suicides in the area had spiked from 122 in 2014-15 to 1,461 in 2015-2016.
Egypt's Nile Delta faces water insecurity as a result of climate change and the demands of a growing population. A mega-dam project upstream in Ethiopia has also recently begun storing water, a move that may eventually cut the Nile's fresh water flow to Egypt by up to 25%.
In Southeast Asia, the competition over the resources of the Mekong River, a vital lifeline for millions of people, is increasingly putting lives at risk from natural disasters, famine and regional instability. The famous river has its source in the Tibetan highlands of China, a country whose rapid industrialisation has seen hydro-power become one if its leading sources of energy. Further damming at source serves to amplify the issues already faced in Laos, Cambodia, Thailand and Vietnam.
The UN's most recent Sustainable Development Goals report identified almost 2bn people around the world who face the threat of water insecurity. As the climate changes and the human population grows, governments across the globe are facing an increasing challenge in managing a resource that so many still take for granted.