Colombia's ELN rebels admit hostage killed in April
Comments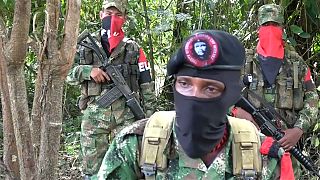 Colombia's ELN rebel group has admitted a Russian-Armenian citizen it held hostage for six months was killed in April. The admission could throw current peace talks with the government into jeopardy.
The ELN seized Arsen Voskanyan in November. After his lengthy captivity, the rebels claim he was shot in a bid to escape.
"Our boys were careless and (while trying to escape) he took a grenade from some jacket and threw it at the men." a rebel leader explains. "It exploded leaving several of our boys injured, almost the entire unit of five men. And then he fled and the men shot at him and killed him. What we can say now is that we're prepared for peace, but also for war."
Inspired by the Cuban revolution and established by radical Catholic priests in 1964, the ELN was close to disappearing inthe 1970s but steadily gained power again.
Peace talks with the government in 2002 and 2007 failed to produce an agreement.