Myanmar violence - almost 100 killed, thousands escape over the border to Bangladesh
Comments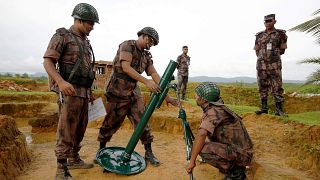 Thousands of Rohingya Muslims are escaping the violence in Myanmar by crossing the border to Bangladesh as security forces open fire in northwestern Rakhine state, according to the government.
The death toll from the violence that began on Friday has climbed to 98.
The clashes, the worst since at least October, have prompted the government to evacuate staff and thousands of non-Muslim villagers from the area.
Reporters from Reuters news agency say hundreds of Rohingya are crossing into Bangladesh near the border village of Gumdhum.
"One of my sons was lost while crossing the border," said one man. "We could not tolerate the torture of the Myanmar government. They killed our people, bodies were lying there, we were helpless there, the government's people burned our houses, they also killed our small children. How can we live there?" he added.
Myanmar security forces reportedly fired mortars and machine guns at Rohingya Muslims trying to flee to Bangladesh. https://t.co/vQmhCt5RSu

— Kenneth Roth (@KenRoth) August 26, 2017
On Friday, national leader Aung San Suu Kyi condemned the raids, but the treatment of more than a million Muslim Rohingya in mainly Buddhist Myanmar has emerged as the biggest challenge for the Nobel Peace Prize laureate.
Suu Kyi has been accused by some Western critics of not speaking out for the long-persecuted Muslim minority, and of defending the army's counteroffensive after the October attacks.
Suu Kyi is a Nobel Peace Prize winner who disappoints as she leads Myanmar, perpetuating the conflict and ethnic cleansing of Rohingya. https://t.co/N6iBcXXCY4

— Nicholas Kristof (@NickKristof) August 26, 2017
Bracing for more violence, thousands of Rohingya – mostly women and children – are crossing the Naf river separating Myanmar and Bangladesh and the land border, according to Bangladeshi border guards.
Rohingya have been fleeing Myanmar to Bangladesh since the early 1990s and there are now around 400,000 in the country, where they are a source of tension between the two nations who
both regard them as the other country's citizens.