Anti-terrorism march in Cambrils ahead of mass peace rally in Barcelona
Comments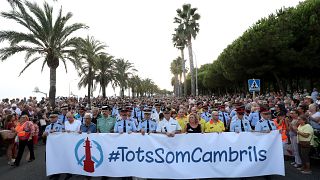 Thousands of people marched through the streets of Cambrils in Spain's Catalonia region, as part of an anti-terrorism protest following last week's deadly vehicle attack in the city in which one woman died. The march comes on the eve of a mass peace demonstration planned for Saturday in Barcelona which King Felipe of Spain is due to attend.
Shouting "no tinc por", which means "not afraid" in Catalan, marchers walked along the seafront led by the mayor of Barcelona and other political leaders.
Spain's Prime Minister Mariano Rajoy says he will ask a summit next week with French, Spanish, Italian and German leaders for more European cooperation to fight terror. Fourteen people died and more than 100 others were injured in Spain's deadliest attacks in more than a decade.
Meanwhile a new video of the attack in Las Ramblas has been released showing pedestrians narrowly avoiding a white van as it raced down the boulevard at high speed.
Passersby are seen running to avoid the vehicle and taking shelter in a storefront.