Brexit battle to resume but Brussels fears talks may slip
Comments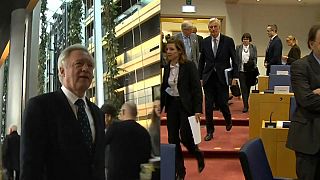 Brexit negotiators will resume their bruising encounter in Brussels on Monday amid fears the timetable may slip.
European Union officials say they are doubtful that talks can move onto trade in October as the UK wants, due to a lack of progress on the EU's priorities: the financial settlement from Britain's departure, expatriate rights and the Irish border.
There's frustration at Britain's lack of engagement on something that has echoes of great rows of the past – over cash.
In the 1980s the then Prime Minister Margaret Thatcher demanded Britain's 'money back' and won a rebate on the UK's contributions; now the UK faces a large exit bill.
The minister who recently said the EU could 'go whistle' for its money says he accepts the principle – but contests some of the figures being suggested. The EU has floated a separation bill of around 60 billion euros.
"Some of the sums that I've seen seem to be very high and of course we will meet our obligations. You know we are law-abiding, bill-paying people," British Foreign Secretary Boris Johnson told BBC Radio 4's Today Programme. "We should pay not a penny more, not a penny less of what we think our legal obligations amount to."
British negotiators have said they will go "line by line" through the EU's financial expectations. A senior EU official involved in the talks said it would be wrong to raise hopes of a breakthrough.
Unless there's progress on agreeing a method for calculating the bill then trade talks look set to be delayed.
That would be bad news for businesses – among them car manufacturers relying on efficient cross-border supply chains – who say the uncertainty over future arrangements will soon bite.
EU officials are also concerned the UK is trying to use the Northern Ireland peace process as a "bargaining chip" to speed up trade talks.
No side wants a 'hard border' with the Republic, but the UK's proposals for fluid customs arrangements have been criticised.
The main stumbling block over expatriates' rights concerns jurisdiction. London has reaffirmed it wants to break free from the EU's top court, and says British judges will oversee the rights of EU citizens in the UK. Brussels wants the European Court of Justice to have the final say.