Trump blames media for 'giving a platform to hate groups'
Comments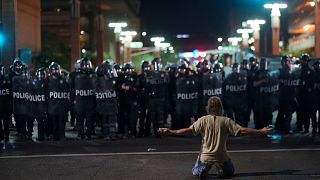 President Donald Trump hit out at the 'dishonest media' for not accurately reporting his sentiments following the Unite the Right rally in Charlottesville, Virginia.
The president, speaking in Phoenix, Arizona, repeatedly singled out the press for how it covered the violence and the resulting political fallout.
"These are truly dishonest people. They're bad people. I really think they don't like our country," Trump said. "The only people giving a platform to these hate groups is the media."
Trump also pledged that he would be willing to risk a politically damaging government shutdown in order to secure funding for the wall.
Thank you Arizona. Beautiful turnout of 15,000 in Phoenix tonight! Full coverage of rally via my Facebook at: https://t.co/s0D12EFs40pic.twitter.com/WT4D9Vsen1

— Donald J. Trump (@realDonaldTrump) 23 August 2017
He visited the border region in Yuma, Arizona, earlier on Tuesday.
"If we have to close down our government, we're building that wall," Trump said. "We're going to have our wall. The American people voted for immigration control. We're going to get that wall."
Trump also weighed in on another racially-charged issue, hinting he would pardon former Maricopa County Sheriff Joe Arpaio.
Arpaio, 85, who battled illegal immigration in the Phoenix area, was found guilty last month of criminal contempt for violating the terms of a 2011 court order in a racial profiling case.
Whle the president was winning over the crowd inside, there were clashes outside, as police fired pepper spray and gas to disperse protesters.
The protests follow a poll by the Washington Post-ABC news that found almost 60 percent of Americans disapproved of Trumps response to the clashes at the Unite the Right rally.
Hundreds of protesters gather outside President Trump's campaign-style rally in Phoenix, Arizona. pic.twitter.com/flWOtkV0V5

—

NBC

News (@NBCNews) 22 August 2017