Finland 'terror' suspect identified after deadly stabbings
Comments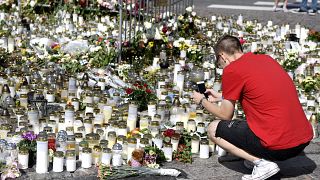 With Finland in shock over deadly stabbings being treated as a terror attack, the main suspect has been identified.
Abderrahman Mechkah, aged 18, is being investigated for two cases of murder and eight attempted murders, all with terrorist intent.
Police say he is a Moroccan asylum seeker. They want him and four other Moroccans arrested after Friday's attack in the southwestern city of Turku to be held in pre-trial detention.
Finland's President Sauli Niinistö condemned the attack from his official residence in Helsinki.
"We are all shocked about the enormous and incomprehensible violence the attacker used. On this occasion I also want to give my condolences to the relatives of the victims and wish a quick recovery to the wounded," he said.
The knifeman is in hospital after being shot in the leg during his arrest. Police say he appeared to target women. Both of those killed and six of the injured were female.
On Sunday, a reconstruction was held of the knife rampage which, if confirmed as terrorism, would be Finland's first such attack.