Live updates: Manhunt underway for suspected Barcelona attack driver
Comments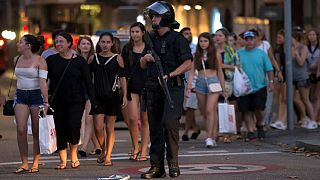 Spanish police say that the driver of the van that ploughed into crowds may still be alive and at large.
They initially believed he was Mousa Oukabir, one of the five men shot dead by police in the Catalan resort of Cambrils, 120 km down the coast from Barcelona, after they drove their car at pedestrians and police officers.
But now they say the driver could have been Younes Abouyaaqoub.
The Spanish government said that the terror cell behind the attacks in Barcelona and Cambrils has been "dismantled".
Here's how events unfolded.
A fourth person was arrested on Friday in connection with the attacks in northeastern Spain that killed 14 and wounded 130, Catalan police said on Friday.
Spanish police shot dead five would-be attackers after confronting them early on Friday in Cambrils, a town south of Barcelona where hours earlier a suspected Islamist militant drove a van into crowds
Six civilians and a police officer were injured in Cambrils. One woman died from her injuries on Friday.
Police said the Cambrils incident was linked to the van attack in Barcelona on Thursday afternoon.
Witnesses to that attack said a white vehicle had zigzagged at high speed down Las Ramblas, ramming pedestrians and cyclists, sending some hurtling through the air and leaving bodies strewn in its wake.