"Barcelona is still standing and we're not afraid."
Comments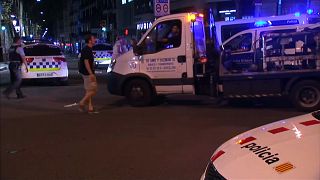 A stunned calm prevails as Barcelona struggles to come to terms with Thursday's deadly attack, which has been claimed by so-called Islamic State.
The tourist season was in full swing when a van ploughed into crowds on Las Ramblas, killing at least 13 and injuring over 100.
What happened in Barcelona is really sad.
Las Ramblas is legit one of the busiest streets, crawling with tourists. :(

— MrsNwobia's Daughter (@Oge_writes) August 18, 2017
City unbowed
The mayor of Barcelona, Ada Colau, was quick to stress the city's resilence:
"Once again, I want to say that Barcelona is still standing and we're not afraid. We're united by the values of democracy, human rights, and co-existence."
Tourists less certain
As a wide-ranging counter-terror operation gets underway across Catalonia, however, tourists have been reviewing their travel plans.
Shady, a tourist from Lebanon, said:
"We don't know if we should leave the area or stay here. We don't know if we will be safe and everything will be back to normal, or we just have to go back home."
#news Tourists advised to stay inside after deadly Barcelona attack https://t.co/T0v98rLr8Dpic.twitter.com/xGaDGwvqon

— RockCheetah (@RockCheetah) August 18, 2017
Security operation
Spanish police have so far made two arrests in connection with the attack but the van driver, who's believed to have fled on foot, is still at large. It's not yet known how many conspirators were involved.
Authorities have subsequently linked events in Barcelona with an earlier explosion in a house in Alcanar, and a shoot-out in Cambrils, a Catalonian seaside town south of the city.