'Everyone is out and about': Barcelona reclaims the streets
Comments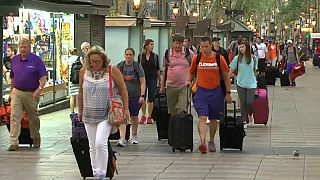 Friday morning saw people – thousands of people – gradually return to Las Ramblas, after the horror of Thursday's terrorist attack on Barcelona's famous promenade.
Some areas remained cordoned off by police, but residents walked dogs and tourists milled around outside, along the inevitable media crews.
It could hardly be described as a return to normality – but their presence once again on the streets of this most international of cities sent its own message of solidarity and defiance following the attacks in Barcelona and Cambrils down the Spanish coast.
Liam Searle is a young British man who lives in Barcelona. He was skating along Las Ramblas at the time of the attack and "caught a glimpse" of the vehicle beside him.
"Every day I skate up and down this street, to and from work, and everyone is always happy in this city, everyone has always got a smile on their face. Yesterday that changed it but I don't think it's changed it for very long. As you can see, today everyone is back out and about, doing their daily lives and I don't think it will make too much of an impact on the people. I think everyone will come together and kind of be a community about it," he said.
The Briton took refuge with a group of people in a gift shop before being taken to a theatre foyer for protection. There, in shock, they called families and friends.
Thursday evening saw the city centre closed down following the van attack. Amid the emergency, people in Barcelona united in solidarity, offering transport, food and shelter to those in need.
On Friday morning people were once again allowed past police lines to their homes and hotels. The mood was sombre, the usual festive spirit replaced by a feeling of sorrow mixed with solidarity. A minute's silence was held for the victims
Euronews correspondent Paco Fuentes reported from the city:
"As the investigation continues, Barcelona is experiencing an intense day packed with emotion, a very different summer's day – with a lot of silence in the streets."