Canadian woman finds long-lost engagement ring on carrot
Comments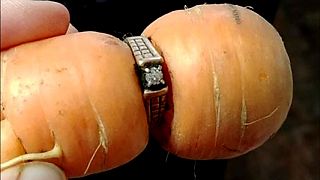 A woman was reunited with her engagement ring when her daughter-in-law dug it up wrapped around a carrot.
Mary Grams, an 84-year-old Canadian, said she lost her diamond ring while weeding her garden on the family farm 13 years prior and thought it lost for good.
"I got on my hands and knees and looked all over and I could not find it. I looked for days and days," she told local media. "I cried so many times."
A woman who lost her engagement ring 13 years ago while gardening has it back — it was found around a carrot https://t.co/zY1h9gEOXOpic.twitter.com/SkzT2CR6cN

— CityNews Toronto (@CityNews) August 16, 2017
When Colleen Daley noticed a misshapen carrot amongst the vegetables she had harvested on the farm near Armena, Alberta, which has been in the family for 105 years, she couldn't believe that the ring was atop.
Daley quickly alerted her husband, Grams son, and together they called the 84-year-old to break the news.
Grams never told her husband, who died five years ago, that she had lost the ring, replacing it with a cheaper copy from the local jewellers.
"I didn't tell him, even, because I thought for sure he'd give me heck or something. Then I finally went to the jeweller and bought a cheap ring. I only told my son, I didn't tell nobody else."
This wedding ring was lost in a garden near Camrose 13 yrs ago. Lucky for Mary Gram this carrot helped her get it back. Dets tonight. pic.twitter.com/VqIS55iSXj

— Taylor Oseen (@CTVTaylor) August 15, 2017
After carefully slicing the carrot in two and washing the ring, Grams tried it on to discover that it still fits.
"I thought I would have to go to the jeweller today, but it still fits," she said.