Chicken Run: Feathers fly at World Hen Racing Championships
Comments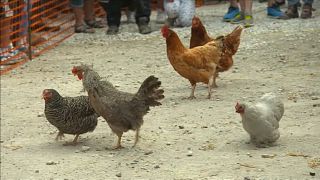 A country pub in central England is not your average athletics venue.
But the World Hen Racing Championships is not your average event.
Trainers and competitors arrived at the Barley Mow public house in the Derbyshire Peak District village of Bonsall on Saturday, confident but not counting their chickens.
The tradition is thought to date back more than a century and, egged on by the crowd, feathers got ruffled at times.
Hen racing world champion crowned: Some competitors resorted to questionable tactics at the… https://t.co/eIPNgVGonm

— 360MediaX (@360mediaX) 6 août 2017
One pair of hens cocked up and got into a fight. Needless to say, they were disqualified for foul play.
But there were some good eggs when it came to the pecking order.
And the world's fastest hen made this 'Chicken Run' her own.
So congratulations are in order to the winner 'Cooked it', the runner-up 'Pluckedit', and to the winning coach, schoolboy Jack Allsop, 9, for his 'eggcellent' result.