Iran minister says US sanctions 'violate' nuclear deal
Comments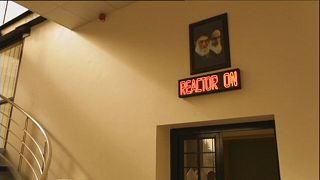 Iran claims the nuclear deal agreed with world powers has been violated by new US sanctions voted by Congress and signed through by President Trump.
Iran's deputy foreign affairs minister has vowed to respond appropriately, according to state TV. Abbas Araghchi reportedly says the authority monitoring the accord, which includes President Rouhani, has drawn up 16 measures in response, without giving details.
The deal struck with Iran by the United States, France, Britain, Russia, China and Germany is aimed at preventing Tehran from developing a nuclear weapon by imposing time-limited restrictions and strict international monitoring on its nuclear program. In return, Tehran won relief from punishing international economic sanctions.
But the Trump administration's hostility to Iran – in the president's words the 2015 nuclear agreement was "the worst deal ever" – contrasts starkly with Washington's stance under President Obama.
The US has approved new sanctions, passed in Congress last week in response to an alleged missile development programme and human rights abuses. They were signed into law by President Trump on Wednesday, along with measures against Russia and North Korea.
The deal struck two years ago also came during Hassan Rouhani's watch. On Thursday he was formally endorsed by the supreme leader as president for a second term. He told the ceremony his government's aim was to improve Iran's image in the world and end the country's international isolation.
But despite his landslide election victory in May, Rouhani is criticised within the country by conservatives who accuse him of making too many concessions to world powers and especially Iran's sworn enemy, the US.