US senate votes to slap further sanctions on Russia, Iran and North Korea
Comments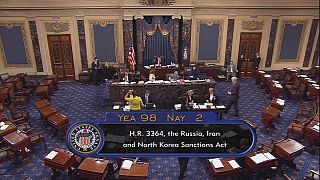 The US Senate has voted 98-2 in favour of imposing fresh sanctions on Russia, Iran, and North Korea, despite objections from the White House.
Earlier this week, the bill was approved by the House of Representatives with another overwhelming majority.
After passing the votes in both chambers, it will now be handed to Donald Trump to sign – although the president, who has sought closer ties with Russia, has the power to veto the bill.
However, a presidential veto could be overturned by a two-thirds majority vote in the Senate, where there were only two votes against the sanctions.
The White House also raised concerns over a provision in the bill that will limit Trump's ability to lift the sanctions independently, and would see the president having to consult Congress first.
Any attempt to veto the bill would risk fueling suspicions that Trump is too supportive of the Kremlin.
The president and Moscow have repeatedly denied any Russian involvement in last year's election. The allegations have sparked an investigation in Congress and fueled the debate over new sanctions.
Earlier this week, the White House simply said it was reviewing the bill, "and awaits a final legislative package for the president's desk".