Donald Tusk questioned in Polish inquiry into Smolensk plane crash
Comments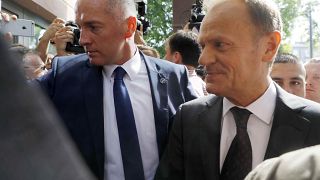 Donald Tusk's name was chanted by supporters – some bearing EU flags – as he arrived for questioning in Poland over his handling of a plane crash that killed the former president.
The president of the European Council was the country's prime minister at the time of the disaster in 2010.
Polish officials have been accused of negligence and several former ministers have been heard in the inquiry. The opposition have denounced the summons as politically-charged.
A small number of Tusk's critics also turned out at the national prosecutor's office in Warsaw, some with posters depicting Tusk in prison uniform.
Last year the state prosecutor's office took over investigations – this inquiry is one of eight – into the crash seven years ago in Smolensk, western Russia, that killed 96 people including the then-President Lech Kaczynski.
His brother, the leader of Poland's ruling Law and Justice (PiS) party has accused Donald Tusk of "political responsibility".
In parliament recently Jaroslaw Kaczynski called opposition figures crooks who had "destroyed" and "assassinated" his twin.
Tusk said the diatribe confirmed fears that Kaczynski wanted the justice system to answer to him.
Poland's conservative rulers – facing demonstrations at home and at loggerheads with the EU action over a judicial overhaul – have long challenged an official report into the crash.
Previous investigations found that it was caused by human error and bad weather. However, the government has set up a new commission of inquiry, which seems to give weight to the theory that there was an explosion – a scenario rejected by the last official report.
Government opponents say the current probe into the role of the previous administration and Tusk himself is a political vendetta.
In April the European Council leader was heard as a witness into another inquiry into military spying, in which he is accused of having exceeded his power in working with Russian investigators after the disaster.