Suicide bomber targets NATO convoy in Afghanistan
Comments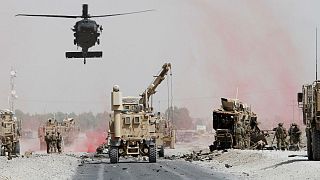 A suicide bomber has attacked a convoy of NATO troops near the airport in the southern Afghan city of Kandahar.
The NATO-led military coalition released a statement saying there had been casualties in the attack, but did not give further information.
The airport in Kandahar is home to a major military base for international troops helping Afghan security forces.
The attack comes the day after US Senator John McCain said he would offer a plan for a US strategy in the Afghanistan war as an amendment to a defence authorisation bill in September.
"Eight years of a 'don't lose' strategy has cost us lives and treasure in Afghanistan," McCain, chairman of the Senate Armed Services Committee, said in a statement.
Resolute Support can confirm that a NATO
convoy was attacked this afternoon in #Kandahar . pic.twitter.com/gwRfMGBjLq

— Resolute Support (@ResoluteSupport) August 2, 2017