Summer rainstorms see Istanbul pounded by hailstones the size of golf balls
Comments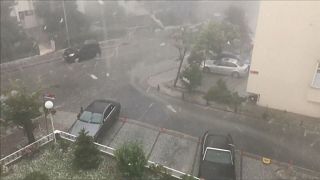 A severe summer storm, which saw hailstones the size of golf balls fall from the skies above Istanbul, has left three people injured in the Turkish city.
Trees were felled, roads were flooded, and a stone wall was demolished by the heavy rain and and strong winds.
Severe hailstorm in Istanbul, Turkey today, July 27! Video: Kai Diekmann pic.twitter.com/Ue6jA3lqg4https://t.co/we5paJmOG1pic.twitter.com/Nc9A1ySEDT

— ClimateChaos (@ClimateChaosBot) July 27, 2017
Near one of the city's ports, a crane was toppled onto oil barrels which caused an explosion and a fire.
In a separate incident a small depot burst into flames after being struck by lightening.
Today, p.m 18:00 Istanbul .. pic.twitter.com/eczVTsorCJ

— Üsküdarlı (@ebubekiryaman) July 27, 2017
The evening rush hour traffic was disrupted as the rainfall left cars stranded in the middle of flooded streets.
Flights from the city's Ataturk airports were suspended, and planes on their way in to the city were diverted to avoid the deluge.
This is what happened to the nose of an airplane at the final approach to Istanbul Ataturk Airport, during the strong hailstorm. pic.twitter.com/zJpAAUK0WY

— Mehmet Dikbayır (@mehmetdikbayir) July 27, 2017
Large hailstones pounded parts of the city, denting cars and smashing windows.
This is the second time in just 10 days that severe rainfall has inundated the streets of Istanbul, causing havoc in Turkey's largest city.