Trophy hunter kills the son of Cecil the lion
Comments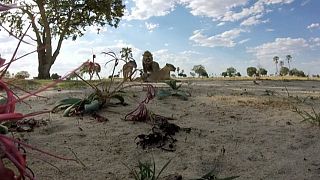 Two years after the controversial death of Cecil the lion at the hands of a hunter in Zimbabwe, one of his cubs has been shot dead.
Xanda, the famous lion's 6-year-old son, was shot during a trophy hunt just outside the Hwange National Park in Zimbabwe, the same place where his father was killed.
The feline was the head of a family including two lionesses and several lion cubs.
According to the British Daily Telegraph, the fatal, yet legal, hunt for Xanda was organised by Zimbabwean Richard Cooke. He also shot one of Xanda's brothers in 2015.
Cooke returned the GPS collar that was fitted on Xanda by researchers to track his movements.
"As researchers, we are saddened to lose an animal we have been studying since birth," Andrew Loveridge from the Department of Zoology at Oxford University told AFP.
"The lions that live here should only die from old age," the park wrote on Facebook.
The controversy surrounding Cecil the lion's death
Cecil the lion was shot dead by hunters two years ago. He was one of the most famous lions in Africa and loved by tourists.
His death caused an outcry around the world and led to demonstrations.
American dentist Walter Palmer, who killed Cecil, paid $ 55,000 for his safari. He was harassed for weeks but was never taken to court.