Scientists in search of the wine of tomorrow
Comments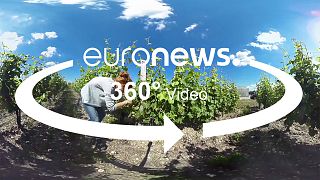 What if tomorrow's wine contained more alcohol and was sweeter because of climate change and earlier grape picking seasons?
Bordeaux wine is facing such a risk, with growers encountering increasing challenges over the past decades due to global warming.
But since 2009 a group of scientists has been researching how wineries in the region can adapt to higher temperatures and drier summers.
By growing 52 types of grape varieties from various countries on experimental land, they are trying to create the wine of the future.
Watch in Virtual Reality: how climate change is affecting Europe now
Inside this VR experience, you can watch seven different reports on climate change in Europe, either with a VR headset or through your normal browser on computer, tablet or phone.
You can choose your destinations by gazing at the icons on the map or by hovering the round cursor on them.
On a desktop browser, you can enter full screen mode by clicking on the glasses.
Please use Wi-Fi if you are on mobile, as well as headphones for the best experience. If you have trouble starting the experience below, please click on this link .