Dozens held in Spain in horsemeat scam probe - Europol
Comments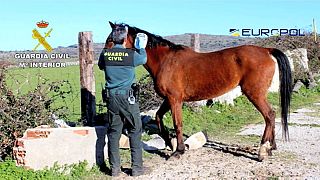 Europol says an operation with Spanish police has dismantled an organised crime group that was trading horsemeat in Europe that was unfit for human consumption.
A total of 66 people are said to have been arrested – all but one of them in Spain.
It follows tests carried out in Ireland in 2013 that showed meat labelled as beef was sometimes up to 100 percent horsemeat.
The Spanish investigation by the Guardia Civil identified a scam where horses either old or in bad shape were being slaughtered and the meat sent to Belgium.
A wide network was allegedly identified; police operations were carried out in several countries including the UK.
Europe's police agency says 65 people were detained in Spain, while the main suspect – a Dutch businessman – was picked up in Belgium.
Those held in Spain have been charged with crimes such as animal abuse, forgery, money laundering and crimes against public health. Several bank accounts have been blocked and properties seized.
Police dismantle crime group trading horsemeat unfit for human consumption. Great effort by guardiacivil</a> & others: <a href="https://t.co/GqSz0yBxQq">https://t.co/GqSz0yBxQq</a> <a href="https://t.co/oDSHBnMTrf">pic.twitter.com/oDSHBnMTrf</a></p>— Europol (Europol) July 16, 2017