'Russia poised to expel 30 US diplomats'
Comments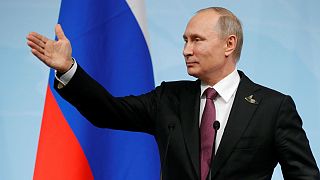 Press reports from Russia on Tuesday suggest that it is poised to expel around 30 US diplomats and freeze some US assets in a retaliatory move against Washington.
Quoting a Foreign Ministry source, the Izvestiya newspaper says it is over failure to reach an agreement on two Russian diplomatic compounds in the US seized by the outgoing Obama administration in December last year.
President Obama abruptly ordered the closure of the facilities, one in Maryland and the other on Long Island, saying they had been "used by Russian personnel for intelligence-related purposes".
It was part of his response, including the expulsion of 35 Russian diplomats, to what US officials called cyber interference by Moscow in the 2016 US presidential election campaign.
Moscow may expel about 30 US diplomats, freeze some US assets in Russia https://t.co/nWxx0bbtfr#USRussiapic.twitter.com/uLGKiE4YO4

— Sputnik (@SputnikInt) 11 juillet 2017
The Kremlin's denials of wrongdoing were repeated in person last week by President Putin during his G20 meeting with President Trump.
Talk followed – albeit short lived – of the countries tackling cyber security together.
The issue of the Russian diplomatic compounds was also raised at the Putin-Trump meeting in Hamburg, according to the Russian press reports.
Russia 'ready to expel 30 US diplomats' in sanctions row https://t.co/9QbnAdf787

— BBC News (World) (@BBCWorld) 11 juillet 2017
But as Trump and his family face fresh claims of collusion with the Kremlin, Putin's patience over the non-return of the Russian compounds looks to be wearing thin.
Last year, Moscow didn't retaliate, hoping for improved relations under the new Trump administration. That, however, may be about to change.
with Reuters