Bitcoin kingpin on trial in Japan
Comments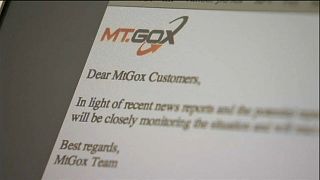 The head of what was once the world's biggest bitcoin exchange stands trial in Tokyo on charges of embezzlement and data manipulation. He denies any wrongdoing.
Mark Karpeles ran Mt. Gox, which filed for bankruptcy in 2014 after losing around half a billion U.S. dollars worth of bitcoins. The company blamed hackers for the losses, but the 32-year-old French-born CEO is accused of having diverted funds to accounts in his name.
Karpeles pleaded not guilty on Tuesday (July 11). In its opening statement to the court, his defense team did not dispute that the transfers took place, but denied they amounted to embezzlement.
The collapse of Mt. Gox was a major setback for bitcoin and other virtual currencies, which can be used for payments and traded like stocks and bonds.
Japan hopes there's a silver lining to the debacle: It became this year the first country to regulate virtual currency exchanges nationwide, in the hope they could help boost the economy.
Mark Karpeles, CEO of defunct Bitcoin exchange Mt. Gox, pleads not guilty in a Japanese court https://t.co/sHVd1FGgZzpic.twitter.com/8VW0Mh71IO

— Fortune (@FortuneMagazine) July 11, 2017
Mark Karpeles appeared in a Tokyo District Court today. Inside the rise and fall of the Bitcoin Kingpin https://t.co/lWJay4gkb9pic.twitter.com/bX7RQXQ7qn

— Rolling Stone (@RollingStone) July 11, 2017