German school evacuated after child brings in bomb
Comments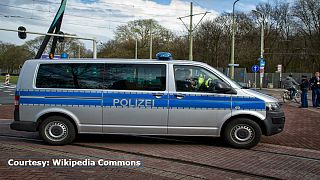 German police evacuated a school in the city of Darmstadt on Wednesday, after a "strange object" found by one of the children was revealed to be an unexploded World War Two bomb.
A teacher found the 70-year-old ordinance among the classroom toys, after one of the students had discovered it during a walk in the woods, and brought it in to school.
Police spokesperson Andrea Loeb said teachers called the police immediately after finding what Loeb described as a "stick-type incendiary bomb".
The bomb disposal unit removed the weapon safely.
The discovery of unexploded second world war weaponry is not uncommon in Germany. On Christmas day 2016, the largest evacuation of its kind took place in Augsburg, southern Germany. 54,000 people were forced to evacuate a 1.5km area when the 1.8 tonne Allied bomb was unearthed.
In May, a similar evacuation of 50,000 people took place in Hannover, when construction workers found several unexploded bombs.