Trump travel ban sparks protests
Comments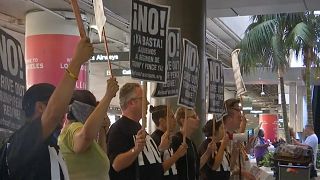 US President Trump's temporary travel order is now in force.
Protesters were out to rally against the new set of restrictions on immigrants from six predominately Muslim countries.
Farida Chehata from the LA chapter of Council on American Islamic Relations said: "I think it's important for people to keep this on the radar, to understand that what's happening is discriminatory, that it's unconstitutional and that it's based in Islamophobic rhetoric that the administration has perpetuated since it's come into office and even back into the elections and that this is a group that is being targeted but it affects minorities generally and travelers generally and it's something that can be expanded to affect many different groups of people. So, it's important for people to remain engaged, to understand what's going on and to push back when they see the administration taking steps to basically violate laws and violate our constitutional rights here in the United States."
"Most Muslims feel that this isn't the best way to promote peace and to stop terrorism, which we all want to do," said Iraqi Sheima Sumer.
"I mean, Muslims are the ones suffering the most from terrorism. But we respect whatever America chooses to do. I just hope that America will think about peace and harmony as the goal."
The 90-day ban took effect in the United States at 8pm EDT on Thursday (June 29) along with a 120-day ban on refugees.
As a reminder to anyone shocked at today's 9-0 SCOTUS ruling on the Trump travel ban: there was never a debate here. IT'S THELAW: pic.twitter.com/7cTiCyGgqq

— TruthInGovernment (@TruthinGov2016) June 26, 2017