Venezuela: Supreme Court attacked by 'terrorists seeking a coup'
Comments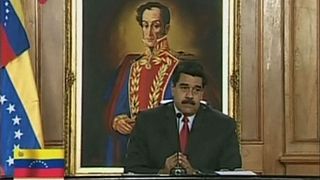 A helicopter has tried to bomb Venezuela's Supreme Court in a dramatic ratcheting up of the country's political crisis.
Speaking on state television, President Nicolas Maduro said a grenade had also been thrown which did not explode. There were no reports of casualties.
"I am sure that sooner or later we will capture the helicopter and those who have made this armed terrorist attack against the institutions of the country, I condemn this terrorist attack and I demand that the opposition condemn this act of violence that resembles a coup."
According to the government, an army officer took a police helicopter and flew it over the capital, Caracas.
Footage on social media shows a helicopter swooping over the city followed by a loud bang.
The officer believed to have seized the aircraft has issued a video statement condemning the government.
"We're a coalition of military officials, police and civilians. We are in search of balance and against this transitional, criminal government. We don't belong to or have any particular political affiliation. We're nationalists, patriots and institutionalists."
Earlier there were more violent clashes between the National Guard and opposition protesters.
For more than two months there have been almost daily demonstrations against Maduro's leftist government.
Maduro has warned that he and his supporters will take up arms if his socialist government is violently overthrown.
#Venezuela's government can be expected to call in support from local armed militias. https://t.co/JJMGFqG8cEpic.twitter.com/4qf2isRpVf

— Stratfor (@Stratfor) June 28, 2017