Venezuela in fevered political chaos and economic crisis
Comments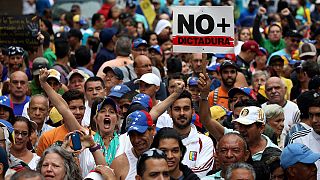 In his four years in power the Venezuelan president Nicolas Maduro has lurched from catastrophe to catastrophe.
Hace 15 años la oligarquía le dio en este lugar una puñalada al pueblo, pero hoy hemos aprendido a vencer al golpismo pic.twitter.com/fGYkTI91Ht

— Nicolás Maduro (@NicolasMaduro) April 12, 2017
Food shortages, lack of medicine and now, according to the IMF, the country is "mired in a deep economic crisis."
The mandate he inherited from the charismatic Hugo Chavez has been shredded.
"Más nunca Venezuela será colonia de nadie. Nos llegó la hora de alcanzar la verdadera soberanía e independencia"
HUGOCHAVEZ 19/04/2010 pic.twitter.com/6fMjfHHCZd

— Genesis El Aissami ♥ (@genesis_aldanar) April 19, 2017
Maduro went to the polls in April 2013 shortly after the death of Chavez and scraped victory over Henrique Capriles by 1.49 percent the previous, year Chavez has beaten Capriles by 11 percent.
Henrique Capriles anuncia 26 puntos de concentración en Caracas y Miranda para este 19 de abril https://t.co/ha5HGd0GbApic.twitter.com/P2hLjSYLqw

— NTN24 Venezuela (@NTN24ve) April 19, 2017
The challenger, buoyed by his success poured scorn on Maduro:"The biggest loser today is you and what you represent," he said.
The economy has been hit hard by the fall in oil prices since 2014. The price plummet has severely limited the country's access to foreign exchange and the imported staples needed to supply the country. Queues are the norm looting commonplace.
People wait in queues for food rations in #Venezuela's capital city.image ABC</a> <a href="https://twitter.com/hashtag/hunger?src=hash">#hunger</a> <a href="https://twitter.com/hashtag/socialism?src=hash">#socialism</a> <a href="https://t.co/f6DwC9E3fU">pic.twitter.com/f6DwC9E3fU</a></p>&mdash; Michael Welling (WellingMichael) March 21, 2017
The chaos has benefitted the opposition, which won an historic victory in the legislative elections in 2015. The result has increased the animosity between the two strands.
#Venezuela: #07Dec Desperate state in #Catia for food; some in queues, others searching garbage [TR.]pic.twitter.com/NXENjZcMIN via ovarioV</a> <a href="https://t.co/HYp6PGvC8O">pic.twitter.com/HYp6PGvC8O</a></p>&mdash; Shaun Murray (BestWebEnglish) December 7, 2016
Maduro, backed by the Supreme Court is constantly blocking parliamentary legislation.
In March the opposition moved on two fronts to oust the president.
An amendment to the constitution to reduce his term from six to four years.
And a recall referendum to force Maduro to relinquish control.
That attempt looks to have been buried by the National Election Council, as the oppostion has been unable to gather enough signatures to force the vote.
After a period of relative calm the fur flew when the Supreme Court tried to shut down parliament
to the incandescent rage of lawmakers. who called for a coup.
#saturdaymorning | Was Venezuela's Parliament Dissolved? https://t.co/iK0zt4OLbMpic.twitter.com/9udt5CYQkz

— MV English (@MV_Eng) April 1, 2017
In early April the pot becomes close to boiling over when the judges rule that opposition leader Henrique Capriles is banned from running for election for 15 years.
Waves of protest followed adding fuel to Venezuela's flames.