Meet the 'Venezuelan Rambo' allegedly behind a coup attempt
Comments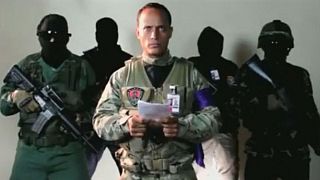 Oscar Perez is the alleged perpetrator of an attack which saw a police helicopter target Venezuela's Supreme Court building and Interior Ministry.
In what Venezuelan President Nicolas Maduro dubbed as an "act of terrorism", the pilot of a police helicopter dropped four grenades on the court and fired 15 shots at the Interior Ministry which had scores of people inside.
Venezuelan daily El Nacional claimed that Oscar Pérez piloted the helicopter.
Venezuela's government has also said in a communique that Perez declared himself in rebellion against Maduro and was behind the attack, but who is the 'Rambo of Venezuela'?
Career
A former captain in the CICPC, Venezuela's intelligence and investigative body, Perez states on his Instagram profile that he is "a crime units investigator, a pilot and a K9 instructor".
Political affiliation
Perez claims to have no political affiliation and in one of his Instagram posts gestured to a purple ribbon tied around his arm saying his allegiance was to "the truth and to Christ".
Social media
Perez is active on social media and has posted multiple videos to his Instagram account in which he appears flanked by four masked men wielding what appear to be assault rifles and addresses the camera directly.
The five recent videos that Perez has posted in this style had collectively received 1.6 million views by late Tuesday, June 27, night.
https://twitter.com/oscaromshanti/media?lang=fr
Film career
In 2015, Perez appeared in the Spanish language film "Death Suspended," the plot of which centred around the CICPC.
September 18, 2015