Civilians flee 'final battle for Mosul'
Comments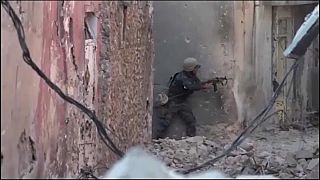 Desperate civilians continued to flee western Mosul on Sunday as fears grow for the thousands still trapped in the densely populated Old City which remains under ISIL control.
The human suffering is immense.
A makeshift hospital near the frontline is treating some of the worst injured, including a woman who spent four days buried under the rubble of her flattened home.
On the street, displaced Mosul woman Suham Mohammed cried out in agony as she said an airstrike had hit her house.
"I lost my daughters. I want to go back to my daughters. I want to go! Maybe they are alive! Today is Eid!" she cried.
"My neighbour just came back from there and they say that it has been levelled. All the houses have collapsed. The corpses are under the rubble and nobody can pull them out. Maybe some of them are alive. Maybe they are alive. Maybe they are alive! If they die, I will die, too!"
#Iraq: Hundreds of civilians are being killed and injured as fighting intensifies in #Mosul's old city - https://t.co/YviPGREcIV
v @OCHAIraqpic.twitter.com/ZrD4ANP5tC

— UNAMI (@UNIraq) 24 juin 2017
Iraqi forces had been hoping to declare victory in the northern city by Sunday and the start of Eid, the Muslim festival celebrating the end of the fasting month of Ramadan.
But the eight month drive to retake Mosul has dragged on, with some 350 or so jihadists now fighting to the death to defend what is left of their former stronghold.
#Iraq: Mohammed reunited with his family after fleeing violence in #Mosul w/ help from @UNICEF#ChildrenUnderAttackhttps://t.co/9VYqxUi2brpic.twitter.com/uj5crGwaHR

— UNICEF MENA (@UNICEFmena) 22 juin 2017
A US-led international coalition is providing air and ground support in the Iraqi offensive to drive the militants out and an Iraqi general said on Sunday that he expected the battle to be over within days.
In the meantime, the United Nations has voiced alarm at the rising death toll among civilians in the fighting.
"Fighting is very intense in the Old City and civilians are at extreme, almost unimaginable risk. There are reports that thousands, maybe even tens of thousands, of people are being held as human shields (by Islamic State)," Lise Grande, the UN humanitarian coordinator in Iraq, said in a statement.
"Hundreds of civilians, including children, are being shot."
#Iraq: Children targeted as families flee Mosul. #ChildrenUnderAttack@ajenglishhttps://t.co/XenbxpneMw

— UNICEF (@UNICEF) 23 juin 2017
with Reuters