US Congressmen play game after baseball shooting
Comments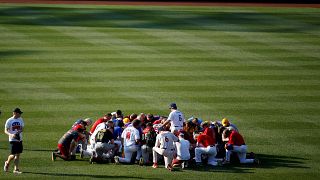 Members of the U.S. Congress took to the field for their traditional Republicans vs. Democrats baseball game on Thursday, with many wearing hats to honour Representative Steve Scalise, who was critically wounded by a gunman as his Republican team practiced a day before.
When the members of the Republican team were announced at Nationals Park in Washington DC, mention of Scalise's name drew a standing ovation from the areas designated for Republican, Democrat and nonpartisan fans alike.
President Donald Trump did not attend but in a video address shown on the stadium's giant screen praised the friendly nature of the annual charity event.
A police officer who was wounded made the first pitch. Investigators are still unclear what the 66 year old gunman's motivation was.
"I can't believe he did. I cannot believe it and I just want you all to go away and leave my neighbors in peace. They don't deserve this. I don't deserve this. My daughters don't deserve all this," said the gunman's wife Suzanne Hodgkinson.
Scalise, 51, a Louisiana Republican who is the No. 3 House Republican, remained in critical condition at a hospital a few miles from the stadium after undergoing a third surgery on Thursday. He was hit in the left hip, suffering injuries to internal organs, broken bones and severe bleeding.
Scalise Faces Prospect of Multiple Operations https://t.co/FCy1qAlTmd

— The New York Times (@nytimes) June 16, 2017
In addition to Scalise, a police officer, a congressional aide and a lobbyist were also shot.
So far this year 6,933 Americans have lost their lives in gun violence according to the Gun Violence Archive.
In February President Trump signed a bill into law that reversed an Obama-era regulation which had made it harder for people with mental illnesses to purchase a gun.