Enes Kanter's father released from Turkish custody after arrest
Comments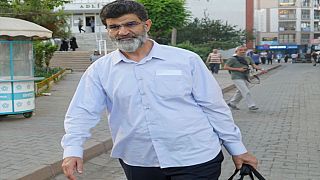 The father of NBA player and outspoken critic of Turkish President Erdoğan Enes Kanter has been released from custody of authorities after his initial arrest on June 2nd as reported by local media and AFP.
A court in the northwestern province of Tekirdag released Dr. Mehmet Kanter under "judicial control", the equivalent of being freed under supervision, according to the AFP report.
Kanter's detention was part of a probe into the
Gülen movement or Hizmet, a social and religious movement. The government says the group incited last year's failed coup attempt and refers to the movement as "Fethullah Terrorist Organisation" or "Fetö".
His son Enes has lived in the US since 2011, where he has maintained staunch opposition to the Turkish government and support of the Gülen movement. The movement is lead by US-based cleric Fethullah Gülen.
The Oklahoma City Thunder forward said the arrest of his father was an attempt to stop his criticisms or force him to return to his home country, where there is currently a warrant out for his arrest. It was issued last month on charges of 'being a member of a terrorist organisation' and his Turkish passport was revoked he says as a result of his political views.
"They either want to make me stop talking, or they want me to go back to Turkey and they will free my dad and arrest me." – Enes_Kanter</a> <a href="https://t.co/Ad1ZtRZvt9">pic.twitter.com/Ad1ZtRZvt9</a></p>— Bob Ley (BobLeyESPN) June 6, 2017
Mehmet Kanter lost his job as a university professor following the failed coup last year. He previously made headlines for publicly disowning his son but it is believed it was an attempt to stay safe and distance his family from government opposition.
Kanter is to meet with Turkish authorities on Thursday, June 8th. After being arrested at his home in Istanbul, he spent five days in custody and was released on condition that he regularly report to a police station.