Turkish officials seek arrest of NBA player Enes Kanter
Comments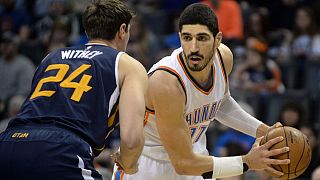 An Istanbul court has issued an arrest warrant for Turkish basketball player Enes Kanter on charges of "being a member of a terrorist organisation" according to Turkey's largest daily newspaper Hürriyet.
The 25-year-old moved to the United States in 2009 and has been playing professionally in the NBA since 2011.
The prosecutor who requested the arrest warrant has also asked the Turkish Minister of Justice to seek an international 'red notice' from Interpol, which requests foreign governments to locate and arrest an individual.
This report follows headlines from May 20th, when Kanter's passport was cancelled, resulting in him temporarily being held at an airport in Romania, before being allowed to fly back to the US via London. Kanter contends this is a result of his outspoken criticisms of Turkish President Recep Erdoğan.
I'm being held at Romanian airport by Police!! pic.twitter.com/uYZMBqKx54

— Enes Kanter (@Enes_Kanter) May 20, 2017
The 2.11 m forward is a supporter of the Hizmet Movement of Fethullah Gülen, a former imam living in self-imposed exile in the US whom Erdoğan has accused of inciting last year's failed coup.
Kanter's pointed criticisms of Erdoğan such as claiming he staged the coup and calling him 'the Hitler of our century' in the video above has lead to being disowned by his own family in a letter published in a pro-government paper and numerous death threats over social media.
In interviews to American media, Kanter says he has not contacted family or friends in Turkey for over two years for fear of them being arrested and his father was fired from his university position after the coup.
Kanter tells ESPN he hasn't been able to speak to his family for 2 years due to fear of govt reprisals. His father was fired from his job. pic.twitter.com/2d76MbElhX

— Omar Ghabra (@omarghabra) May 24, 2017
He is unlikely to be extradited to Turkey due to the rarity of a red notice issuance. Furthermore, the Turkey-US extradition treaty requires a statement of facts and evidence must be presented and an individual cannot be extradited for a "political offense".
Kanter took to Twitter to mock the arrest warrant, telling Turkish authorities "don't waste your breath." With his Turkish passport revoked, Kanter has stated his desire to become an American citizen.