Kabul reels from devastating truck bomb
Comments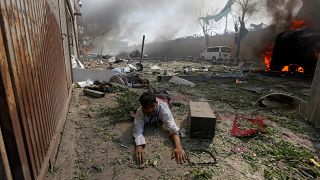 The huge plume of smoke rising above Kabul gives a chilling sense of the carnage caused by Wednesday's truck bomb in the Afghan capital.
At least 90 people were killed and more than 400 were wounded in the blast, one of the deadliest ever seen in Kabul. Some witnesses said it felt like an earthquake. The Afghan health ministry said most of the casualties were civilians, including women and children.
There was no immediate claim of responsibility and the Taliban denied any involvement in the attack, carried out at the start of the holy month of Ramadan.
Locals have flocked to hospitals to donate blood for the victims.
"The blast was so huge that it dug a big crater as deep as four meters," or 13 feet, Kabul's police chief said https://t.co/ML7zWRRImEpic.twitter.com/gwdKQaVoW9

— The New York Times (@nytimes) May 31, 2017
Dozens of people gathered at the entrance of WAK hospital in Kabul to donate blood to the wounded of today's attack in Kabul. pic.twitter.com/p8NESc8T59

— Fahim Abed (@fahimabed) May 31, 2017
'United in shock'
Police said the bomb was hidden in a sewage tanker. It exploded in the morning rush hour at a busy intersection close to the diplomatic district.
The attack drew international condemnation, ranging from India and Pakistan to the United States, the European Union and Pope Francis.
"We're united in shock and sadness, but also in determination," German Chancellor Angela Merkel said hours after the explosion. "All of us together who believe in law, freedom and human dignity in Europe, in America, in Africa and yes, of course also in Afghanistan, we will lead the fight against terrorism and we will win it."
German Foreign Minister Sigmar Gabriel said some embassy staff had been injured and at least one local security guard was killed. "Such attacks do not change our resolve in continuing to support the Afghan government in the stabilisation of the country," Gabriel said
Eleven U.S. citizens working as contractors were among the wounded, the U.S. State Department said, adding that none of their injuries were considered life-threatening. The BBC said one of its drivers, an Afghan, was killed driving journalists to work. Four journalists were wounded and treated in hospital.
The NATO-led mission in Kabul said Afghan security forces prevented the vehicle carrying the bomb from entering the Green Zone, which houses many foreign embassies as well as its own headquarters, also suggesting it may not have reached its intended target.
Still, the German, French, Turkish and Chinese embassies were among those damaged, as the blast shattered windows more than a kilometer away.
The deadly blast targeted a Kabul neighborhood that's home to several embassies not far from the presidential palace https://t.co/5zNuG3cVUy

—

NPR

(@NPR) May 31, 2017
Infographic map by AJEnglish</a> showing the location of <a href="https://twitter.com/hashtag/Kabul?src=hash">#Kabul</a> VBIED blast carried out by ISIS-K (Ex-TTP fighters) today: <a href="https://t.co/no0xmcsgyw">pic.twitter.com/no0xmcsgyw</a></p>— Focal Point (focalpointpk) May 31, 2017
Taliban deny involvement
No group had claimed responsibility by Wednesday evening. Afghanistan's main intelligence agency, the National Directorate for Security, said it was carried out by the Taliban-affiliated Haqqani network with assistance from Pakistan.
The Taliban, seeking to reimpose Islamic rule after their 2001 ouster by U.S.-led forces, have denied responsibility and said they condemned attacks that have no legitimate target and killed civilians.
The attack increases pressure on the fragile government of Afghan President Ashraf Ghani, already facing mounting discontent over its inability to provide security.
U.S. President Donald Trump called Ghani and offered his condolences. Trump "condemned the attack, which occurred during the holy month of Ramadan, underscoring the barbaric nature of the terrorists who are enemies of all civilized peoples," the White House said in a statement.
Afghan intelligence agency (NDS), in statement, says Kabul carnage was work of Haqqani Network. Taliban have deniedhttps://t.co/CW0k9I7Il1

— Mujib Mashal (@MujMash) May 31, 2017