Afghanistan: scores killed in one of Kabul's worst suicide bombings
Comments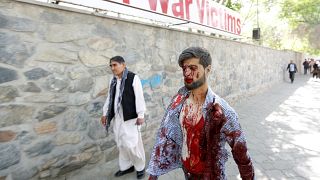 One of the deadliest bomb blasts to hit the Afghan capital Kabul has killed scores of people and injured hundreds more – with most of the victims said to be civilians.
The device, hidden in a tanker according to some reports, exploded in the morning rush hour at a busy junction close to the the diplomatic district.
The German embassy was damaged and some of its staff were among the wounded.
The blast was so strong that houses hundreds of metres away were damaged with windows and doors blown off their hinges. Clouds of black smoke could be seen spiralling over the centre of the capital.
Afghanistan's Deputy Interior Minister Murad Ali said the number of dead was at least 80 and that another 463 had been wounded. President Ashraf Ghani called the attack "cowardly".
A driver for the BBC was among those killed, and the US State Department said 11 American contractors suffered injuries that were not life-threatening.
Police spokesman Basir Mujahid said the target of the blast was unclear. It seems the vehicle was stopped as it enters the area which is home to many foreign embassies, the presidential palace and government offices. Several embassies were damaged and the explosion caused a huge crater in the ground.
There were urgent appeals for blood donations as the injured were rushed to hospital.
By evening local time no group had claimed responsibility; the Taliban denied involvement.
The United Nations Special Representative in Afghanistan, Tadamichi Yamamoto, called the attack in a heavily civilian area "morally reprehensible and an outrage". "Today's attack is an act of terrorism and is a serious violation of humanitarian law," he said in a statement.
Germany said it would stop deporting failed asylum seekers back to Afghanistan in the next few days.
We want peace but, those who kill us in the holy month of Ramadan don't worth a call for peace, they most be destroyed and uprooted. 2/2

— Dr. Abdullah (@afgexecutive) May 31, 2017