Urgent need for aid to stem Yemen cholera epidemic - WHO
Comments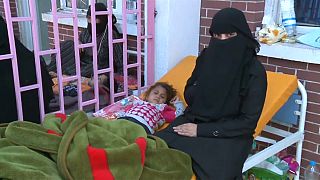 The World Health Organisation has called for emergency aid for Yemen to contain a cholera epidemic which is continuing to ravage the country.
According to the health ministry, 19 of 22 regions are threatened and nearly 500 people have died.
The WHO's Yemen coordinator Dr Omar Saleh said that after the first outbreak in October last year, the second phase kicked in at the end of April. Now towards the end of May 38,000 cases had been recorded: "the epidemic is very serious and spreading in an unprecedented manner," he added.
Some 67 tonnes of medical aid sent by the WHO has arrived in recent days. In addition, some international organisations and countries have also provided emergency relief. However, the total amount is far from enough.
The two-year old war and economic crisis have caused Yemen's infrastructure and health care system to collapse, amplifying the danger of a cholera epidemic.
The United Nations humanitarian coordinator in Yemen, Jamie McGoldrick, has said the country needs 55.4 million dollars to treat cholera patients and stop the disease from spreading over the next six months.