Jamila: Dead aged 7 as famine takes hold of Yemen
Comments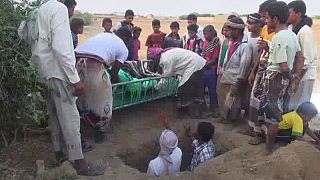 Jamila was seven. But doctors at a malnutrition ward in Yemen couldn't save her.
Half a million children are now acute, severe malnourished

Norwegian Refugee Council
The little girl suffered from worms which medics in her remote village home were unable to treat, and her family could not afford to transfer her for specialist care in the capital, Sanaa.
In the war-torn country, the grief of Jamila's family is echoed nationwide amid warnings that Yemen is facing a "famine of Biblical proportions".
"She was very sick. I tried to get her treated at the hospitals and nothing helped," her mother Amal Ibrahim explained.
"As soon as we had money, I would spend it to get her treatment. We sold the furniture, the sheep and everything else. I wanted a healthy life for Jamila but we couldn't get it."
Seven-year-old Jamila is another victim of Yemen's civil war https://t.co/Gnm3JZvCkjpic.twitter.com/2pUw9ZNLiu

— euronews (@euronews) 3 mai 2017
The United Nations says a child under five in Yemen dies around every 10 minutes from preventable causes such as starvation, disease, poor sanitation or lack of medical care.
As the number of patients grow, #Yemen's dwindling number of health professionals struggle to cope. pic.twitter.com/BU079r1NU0

— ICRC (@ICRC) 3 mai 2017
UN chief Antonio Guterres has warned of "the starving and the crippling of an entire generation."
And visiting Yemen on Wednesday, veteran aid expert and head of the Norwegian Refugee Council Jan Egeland warned that the crisis-hit country faces a "famine of Biblical proportions", expressing fury over the failure of the "men with guns and power" to end the crisis.
"Half a million children are now acute, severe malnourished," he said later.
"That is a euphemism for 'they are at the brink of dying from hunger'. That's half a million, really. That number is increasing. And it is not just in certain pockets of the country. It is happening in the north. It is happening in the west, east and in the south."
Nearly 17 million of Yemen's 28 million people are deemed "food insecure" by aid groups, and around 7 million do not know where they will get their next meal.
Every food security crisis is also a health crisis. Between malnutrition and death there is often disease. #Yemenpic.twitter.com/QvidZReyj7

— WHO Yemen (@WHOYemen) 1 mai 2017
Jamila was treated in Hodeidah. Amid growing fears the rebel-held port could be the target of a major assault by the Saudi-led coalition fighting in Yemen, the UN has warned that the country's humanitarian crisis could deteriorate still further, with yet more loss of civilian lives.
The United Nations conservatively estimates that more than 10,000 people have been killed in the war in which the coalition is backing Yemen's internationally-recognised government in its fight against Houthi rebels. Experts fear the real figure is much higher.
Last week, UN food agencies urged the international community to act to prevent more deaths in four conflict-hit countries stalked by famine, including Yemen.
#Nigeria, #Somalia, #SouthSudan, #Yemen: 30 million people are grappling with finding enough food each day https://t.co/LqWTWKYgRzpic.twitter.com/Xt4IdzZDEF

— FAO Newsroom (@FAOnews) 2 mai 2017
with Reuters