Philippine troops battle Islamists in besieged city
Comments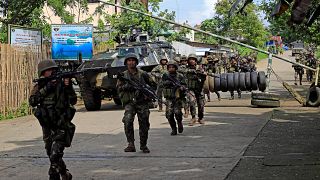 Philippine troops backed by attack helicopters battled dozens of Islamist militants holed up in a besieged southern city on Thursday.
The army sent about 100 soldiers, including U.S.-trained special forces, to retake buildings and streets in the mainly Muslim city of Marawi, rampaged earlier this week by militants of the Maute group, which has pledged allegiance to the self-styled Islamic State.
The militants occupied parts of the city on Tuesday, prompting Philippine President Rodrigo Duterte to declare martial law in the entire Mindanao island, the country's second-largest.
The battle started with a failed attempt by security forces to arrest some Maute fighters. At least 21 people have been killed since then. Religious leaders have also accused the rebels of using Christians, taken hostage during the fighting, as human shields.
Hundreds of civilians, including children, have taken shelter at a makeshift evacuation camp in Marawi, where the militants – who have pledged allegiance to ISIL – also set free more than 100 prisoners from two jails.
The military has not explained how Tuesday's raid on an apartment hideout went so badly wrong and spiralled into urban warfare.
ISIL has claimed responsibility for Maute's activities via its Amaq news agency.
Hostilities had eased overnight but flared again later on Thursday morning when troops advanced towards a strategic bridge held by Maute fighters.
Philippine troops battle Islamist militants, who are holding Catholic hostages, in southern city of Marawi https://t.co/ks0QGpOvt6pic.twitter.com/bEWBKxwZM1

—

AFP

news agency (@AFP) May 25, 2017
Concerns over human rights
Authorities have not reported any civilian casualties but the GMA television network showed images of nine people who had apparently been shot dead. The victims had their hands tied together.
Marawi has about 200,000 residents but many of them have fled because of the fighting.
Marawi Mayor Majul Gandamra said some rebels from the Maute were still holed up in buildings and sporadic gunfire could be heard.
Duterte threatened harsh measures to prevent extremists taking a hold in Mindanao and said martial law would remain in place for as long as it took to restore order and prevent radical Islamist ideology from spreading in the Philippines.
Human rights experts have expressed concern about possible abuses by the military and police in places under martial rule and say the conduct of security forces during Duterte's deadly anti-drugs campaign has not inspired confidence.
AFP map of Philippines' Mindanao region, put under martial law by President Rodrigo Duterte in order to battle Islamist militants pic.twitter.com/fOs0Cejx39

—

AFP

news agency (@AFP) May 25, 2017