Philippines: Duterte vows to be 'harsh' with martial law in Mindanao
Comments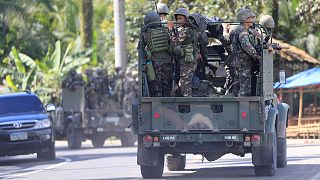 The president of the Philippines has warned he will deal harshly with militants after martial law was declared on the southern Mindanao island.
The move to place the island of 22 million people under military rule came after clashes between government forces and Islamist fighters in which three soldiers died and 12 were wounded.
In Marawi City on Tuesday militants are said to have attacked and occupied buildings including a hospital and a jail, and to have taken hostages.
President Duterte, who is from Mindanao, cut short a visit to Moscow where he met President Putin, to return to Manila.
He said the situation would be similar to the 1970s rule of the dictator Ferdinand Marcos.
Critics have described the move as an overreaction and fear it could lead to human rights abuses.
President Rodrigo Duterte declares martial rule in besieged south Philippines. https://t.co/Q7N4Snoe58

— The Associated Press (@AP) May 24, 2017