Syrian peace talks end with only ''incremental progress''
Comments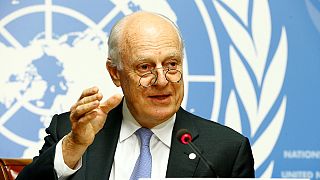 Four days of faltering peace talks on Syria ended in Geneva on Friday, with Staffan de Mistura admitting only ''incremental progress'' had been made.
The UN envoy said he hoped negotiations might reconvene in June, but gave no date.
The head of the main opposition group said there would be no progress, however, until Iran gets out of Syria.
"It is impossible to reach a political solution today. It's impossible for Syria and countries in the region to have stability and security so long as Iran is in both Syria and other countries,'' Nasr Al-Hariri, head of the Syrian High Negotiations Committee, said.
The talks in Geneva were further complicated by a US airstrike on pro-Assad militia in Syria on Thursday.
The Syrian government described the action as ''government terrorism''.
The US, however, defended the action saying it was aimed at protecting US and UK troops in the region.