Iranians vote in hard-fought presidential election
Comments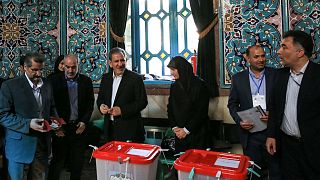 After a hard-fought campaign, the day has arrived for Iranians to choose their next president.
Supreme Leader Ayatollah Ali Khamenei voted early in the day and called on others to do the same.
It's being dubbed a contest between a pragmatist and a hardliner. The former, current President Hassan Rouhani, urged Iran's powerful elite Revolutionary Guards not to meddle in the election.
They are believed to back his challenger, Ebrahim Raisi, who has also been tipped as a possible successor to Khamenei.
In a scene not witnessed since the 1979 Islamic Revolution, Raisi and Rouhani were openly vehement towards each other in the run-up to the vote.
During a live television debate, they traded accusations of graft and brutality. Both deny the charges.