Iran's post-sanction economy doing well one year after nuclear deal
Comments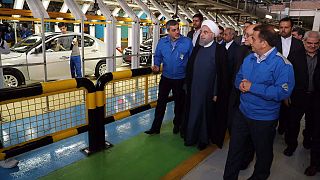 Iran's nuclear deal was signed at a time when the country's political risks were high, and economic income and investment into financial corporations were limited.
It has been over a year since the deal, also known as the Joint Comprehensive Plan of Action, was implemented. During that period, there have been big changes in Iran's economy.
Under the deal, over 90 percent of nuclear related sanctions were lifted. Among the most important lifted were secondary sanctions on the Central Bank and Iran's commercial banks, selling oil, investing in oil and gas projects, transportation, shipping lines, and commercial aviation industry.
Europe's SWIFT banking services were restored on implementation day. According to Central Bank authorities, 29 Iranian banks are connected to SWIFT, although banking relations still remain the main issue. Despite lifting international sanctions, there is no complete connection between Iranian and western banks yet. One-sided embargoes of the US and the cloud of mystery over them has troubled the trust of world's banks and delayed their return to Iran. They're also an obstacle against huge investments and trades.
Following the nuclear deal, Iran is now seeking investment in different sectors. On the other hand, this deal has made countries and companies think of resuming their commercial ties with Iran.
France has stabilised its presence: Renault and Peugeot products are being manufactured and sold in Iran. Also Airbus was able to sign an 18 billion-dollar contract with Iran. Italy and Germany's presence should also be mentioned.
The embargoes caused a gap in economic cooperation in Iran and around the world. Restoring ties takes time, so that all sides can wipe away the negative effects of sanctions and prove their constructive presence in economic growth.
Although companies with a background in Iran may have been able to start work sooner than others, other companies with less familiarity with Iran's market need more time.
International oil companies are showing an increasing interest in Iranian oil and gas. They know the potential for oil investments and projects here is huge. Although some experts say that Iran has not been successful in attracting capital so far, an International Fund report predicts that Iran will experience a faster non-oil sector economic growth with direct foreign investment.