Iran: presidential campaign breaks boundaries
Comments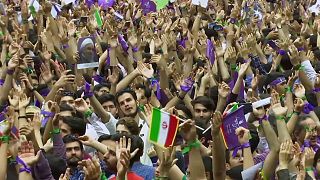 With days to go until Iran's Presidential election, front-runner and incumbent Hassan Rouhani painted his rivals as power-hungry puppets of the security forces. Such criticism of his opponents goes well beyond the usual boundaries of Iranian politics.
Rouhani, a moderate cleric, took office four years ago in a landslide victory. His landmark policy has been the reduction of sanctions against Iran via rolling back on the county's nuclear programme. The dividends from this policy are proving slower than expected to materialise, frustrating voters.
Iran national TV is holding the 3rd live debate among Presidential candidates. Rouhani & his deputy Jahangiri are crushing the hardliners. pic.twitter.com/sGrkoQQvZL

— Negar نگار (@NegarMortazavi) May 12, 2017
Rouhani addressed cheering supporters at an enormous rally and declared:
"We will not let Iran become isolated once again we would like to have constructive and effective interaction with the world."
Despite portraying himself as an insider and a pragmatist, Rouhani seems to have strayed from this image in recent days in a bid to energise voters in favour of less confrontational foreign policies and increased liberty at home.
"No To Moral Police" sign held by young women at Rouhani's campaign rally today in Tehran. (Moral police enforces mandatory hijab) pic.twitter.com/kKes2HJXdz

— Negar نگار (@NegarMortazavi) May 10, 2017
Ebrahim Raisi, a hardliner is Rouhani's main rival. He is favourite to succeed the country's Supreme Leader Ali Khamenei. The black turban he wears is supposed to signify direct descendancy from the prophet Muhammed.
wow. chants for green movement leader Moussavi, under house arrest, at huge looking Rouhani rally https://t.co/sCkNij4KED

— Laura Rozen (@lrozen) May 13, 2017
Another challenger is Mohammad Baqer Qalibaf, the conservative Mayor of Tehran who lost to Rouahani in 2013.
The election is widely seen as deciding if Iran will continue to integrate with the rest of the world or close back in on itself.
Show of force 2day by #Rouhani campaign. But does 15-20K in #Tehran mean he can get 15 to 20M votes in all of #Iran? pic.twitter.com/x7f1OXDY54

— Bahman Kalbasi (@BahmanKalbasi) May 13, 2017
Tehran University's recent poll after the debate
Rouhani 45%
Qalibaf 22%
Raisi 17%
Jahangiri 3%
Others 1%
Don't know 12%#IranElections2017pic.twitter.com/NPPFBGC8zp

— Ali Hashem علي هاشم (@alihashem_tv) May 13, 2017