Iran voters face stark choice in presidential poll
Comments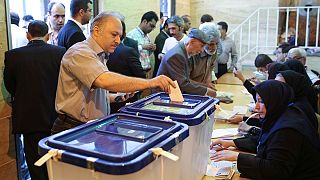 Iran's President Hassan Rouhani hopes Friday's election will put him back in the hot seat for another term, enabling the 68-year-old to pursue engagement with the West.
But the moderate, who struck a deal with world powers to curb Iran's nuclear programme in return for sanctions relief, faces a strong challenge from hardline judge Ebrahim Raisi.
He believes Rouhani has gone too far and sold out the values of Iran's Islamic revolution to its enemies.
Raisi, believed to have the backing of the powerful Revolutionary Guards security force, as well as the tacit support of supreme leader Ali Khamenei, has also blamed Rouhani for mismanaging the economy.
What is at stake in Iran's presidential election? https://t.co/FFnsMdsrVEpic.twitter.com/yxIXJmywAy

— AFP news agency (@AFP) 19 mai 2017
Whatever the result, both leading candidates called for the people's choice to be respected.
"If the results are not what is desired by a candidate, for example, if I, for any reason, look upon the results as undesirable, this should not lead to disruption of the nature and mechanics of the elections," Raisi, 56, told reporters.
The longest lines I have ever seen in 15 years of reporting here. This is Husseiniye Ershad where most foreign reporters and state tv are. pic.twitter.com/2W3BfgIdSJ

— Thomas Erdbrink (@ThomasErdbrink) 19 mai 2017
As millions lined up to make their choice between competing visions of Iran, memories are fresh of deadly protests in 2009 when reformists disputed the electoral victory of hardline president Mahmoud Ahmadinejad.
with Reuters