Cannes film festival: Netflix movie Okja marred by boos and technical problems
Comments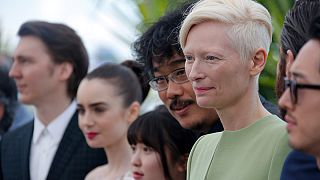 The Cannes film festival has apologised after technical problems and audience unrest disrupted the screening of Netflix's first movie at the competition.
Okja was booed when the Netflix logo appeared.
The movie also had to be stopped and restarted five minutes after it was shown in the wrong aspect ratio.
"Yeah when Netflix's name appeared there was a lot of boos. Every time the Netflix name appeared there were a lot of boos, there was a lot of controversy about Netflix distribution here at Cannes, but I think it's unwarranted. People need to adapt themselves to new ways of cinema, I think," said one man who was in the audience.
''The real question I ask myself is: what are the economic reasons for allowing such films into the competition which are not going to be shown in cinemas and which are clearly not of the same quality as other movies?'' said another man.
Okja, which stars Tilda Swinton and Jake Gyllenhaal, has been controversial because producer Netflix has refused to show it in French cinemas. The film is about a young girl who tries to save her best friend, a so called super-pig.