Trump slams probe into him as "single greatest witch hunt"
Comments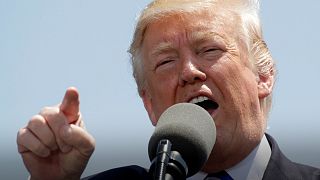 His initial response was seen as moderate, but now President Trump has lashed out at the appointment of a special counsel to investigate possible links between his team and Russia.
"This is the single greatest witch hunt of a politician in American history!" he Tweeted, also complaining that Hillary Clinton and President Obama were not investigated by a special counsel.
"With all of the illegal acts that took place in the Clinton campaign & Obama Administration, there was never a special counsel appointed!" Trump Tweeted.
The Deputy Attorney General appointed former FBI chief Robert Mueller to lead the probe, which does not appear to be limited.
Jessica Levinson, a law professor at the Loyola Law School, said:
"You can start a special investigation that's more narrow and the further you go, the more people you talk to, and the more documents you obtain, then it becomes broader.
"And I think that may be the fear of many in the administration tonight, that it's not confined, and that it actually is like an octopus and that there are a lot of arms and tentacles."
Trump's latest troubles began when he fired FBI chief James Comey, who had earlier confirmed he was investigating the claims of collusion with Russia.
There have also been claims, denied by Trump, that he called on Comey to drop an investigation into the ex-National Security Adviser Michael Flynn.
Russia was also in the spotlight recently amid reports that Trump discussed classified information on ISIL with the Russian Foreign Minister, in a meeting in the Oval Office.