Pressure mounts on Trump over relationship with Russia
Comments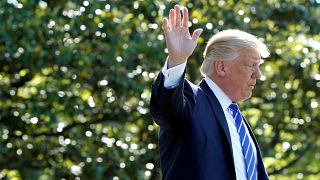 US President Donald Trump has claimed that no politician in history has been treated worse than him.
The President defended himself after becoming embroiled a series of rows over his relationship with Russia.
US media have claimed Trump divulged highly classified military information to Russia's foreign minister.
While the President has also been accused of trying to influence an FBI probe into his campaign team's links with Moscow.
Speaking at an event in Connecticut, Trump said: "Look at the way I have been treated lately, especially by the media. "No politician in history, and I say this with great surety, has been treated worse or more unfairly."
But the Republican House of Representatives Speaker Paul Ryan played down the claims.
"We need the facts. It is obvious there — there are some people out there who want to harm the president.
"But we have an obligation to carry out our oversight, regardless of which party is in the White House. And that means, before rushing to judgment, we get all the pertinent information"
Democrats have called for an independent inquiry in to he accusations, but representative Al Green went further and said the President should be impeached.
He said: "I rise today. Mr. Speaker. to call for the impeachment of the president of the United States of America for obstruction of justice."
As the pressure builds, a small but rising number of Republicans have supported calls for a new inquiry over the claims, which have been denied by the White House.